Daylight Hours Explorer
July 15th, 2010

Stumbled onto this great educational tool from somewhere. It works out the number of daylight hours a location would receive on a particular day after you fill in the latitude of the location.
Click the image to try it yourself!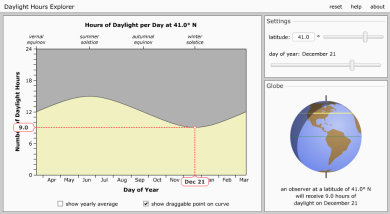 Tags: daylight
This entry was posted on Thursday, July 15th, 2010 at 4:06 PM.
Category: Tools.

You can follow any responses to this entry through the RSS 2.0 feed.
You can leave a response, or trackback from your own site.

4,833 Responses to this post.
« Older Comments
« Older Comments
Leave a Reply
You must be logged in to post a comment.